North Albany, Oregon branch
Visit your local Oregon State Credit Union branch, with ATM, drive-up or lobby, or call 800-732-0173.
The North Albany branch is conveniently located by Frankie's Restaurant. Come see us!
North Albany branch
625 NW Hickory St
Albany, OR 97321
Phone: 800-732-0173
Lobby Hours:
Mon - Fri: 10:00 a.m. - 7:00 p.m.
Sat: 10:00 a.m. - 2:00 p.m.

Drive-Thru Hours:
Mon - Fri: 9:00 a.m. - 7:00 p.m.
Sat: 10:00 a.m. - 2:00 p.m.

See list of branches and locator
Meet Jacob Blunck, North Albany credit union member, official wielder of the cosmic spinner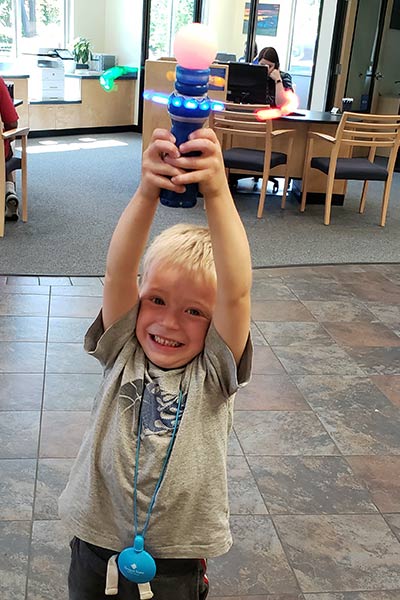 See more photos of our Scottie Saver members here.
Wow, we had fun on Scottie Day when many of our members visited branches to help us celebrate a special day for Scottie Savers. The fun included free gifts, treats and sale prices on Scottie merchandise. Thanks to all our members for good times and building the saving habit!
Shona Coelho, Assistant Branch Manager, says, "The North Albany branch was hopping! It was our most popular Scottie Day celebration at our branch!"
Go to main navigation