McMinnville, Oregon branch
Branch Manager Phillip Symons and Assistant Branch Manager, Christopher Crowell, invite you to visit your local McMinnville Oregon State Credit Union branch, with ATM, drive-up or lobby. Check our COVID-19 updates here.
See list of branches and locator
In the McMinnville community
You can usually find Phillip Symons, our McMinnville branch manager, working with members to provide loans and saving accounts. In his off-hours, this long-time McMinnville resident can be found with his wife and two children or volunteering for a variety of youth sports: he coaches for the McMinnville Youth Football program and the McMinnville Parks and Recreation Department.
Other McMinnville community connections
Fun at Frozen 2! At a special McMinnville community free movie showing provided by Oregon State Credit Union, unique "ice-powers" were temporarily gained by staff. Seen below are, left to right: Chris Crowell, Assistant Branch Manager; Phillip Symons, Branch Manager; Peggy Mehl, Director of Regional Branch Services; "Elsa" (of Party Perfection); and Leticia Cozar, Financial Services Consultant.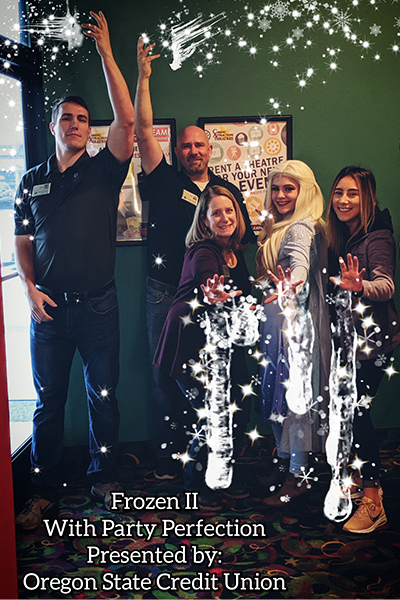 About the credit union
Oregon State Credit Union is a member-owned, not-for-profit financial cooperative, open to anyone who lives or works in 24 western and central Oregon counties.
We look forward to seeing and serving you whether it's in the lobby, the drive-through or inside secure online banking.
See list of branches and locator
Go to main navigation