The history of Oregon State Credit Union
Our story begins in 1954 with a shoebox and $25.
Bob Coyle, an associate professor of Agriculture at Oregon State College (now Oregon State University), founded Oregon State College Federal Credit Union to serve the unmet financial needs of its members. Mr. Coyle ran the credit union from his desk in Snell Hall (now Ballard Extension Hall).
In those early days, membership in the credit union was small. The original membership charter restricted membership to employees of Oregon State College; selected state and federal employees affiliated with the college; and employees of the credit union, their immediate families and organizations. In those early days, if a member needed a loan, Mr. Coyle went from member to member, shoebox in hand, to pull together enough deposits to cover the request.
Through careful management, our credit union grew in capital strength, services and membership.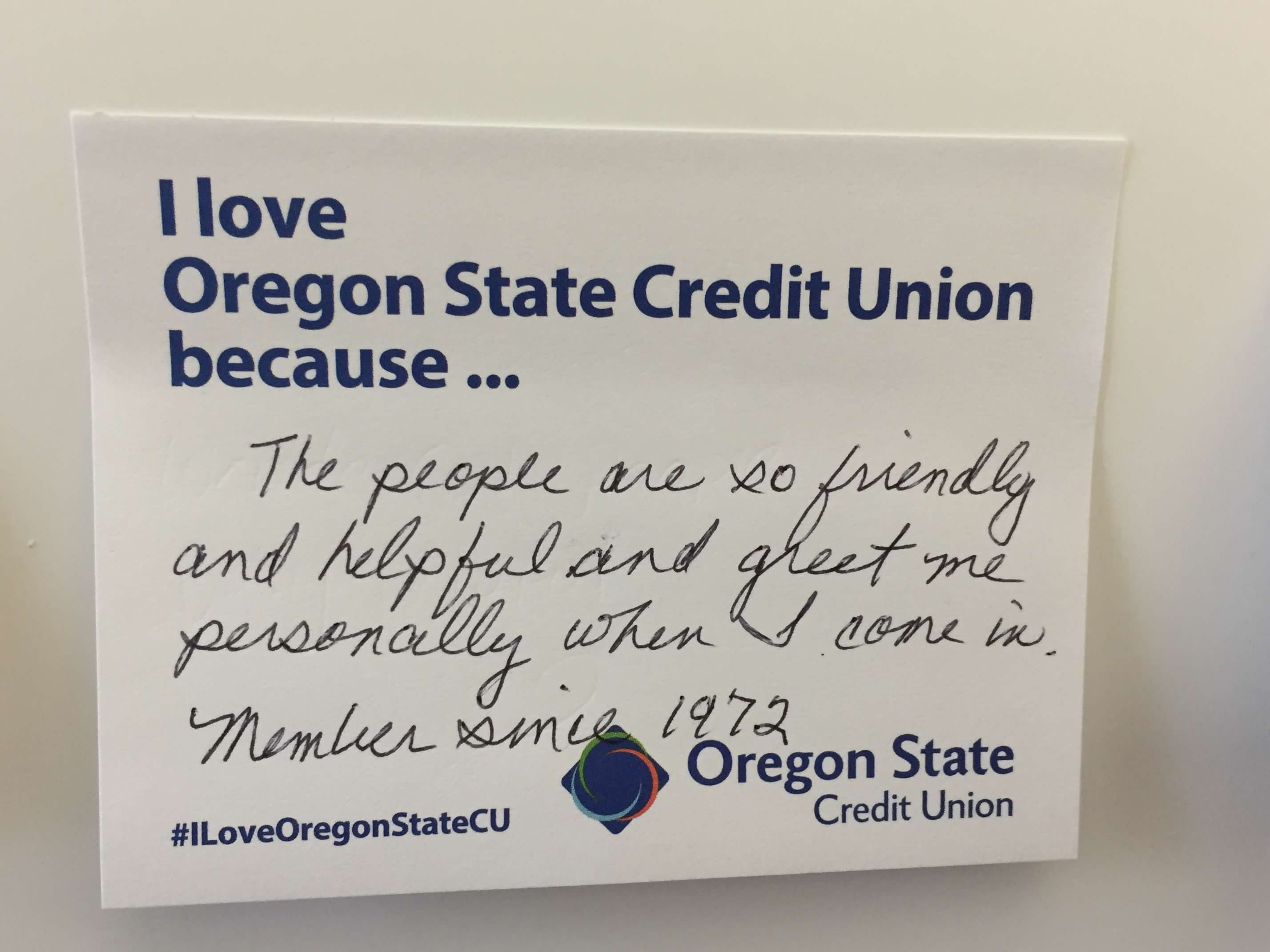 Above, a long-time member shared a comment with us on International Credit Union Day.
1960s bring exciting changes
By 1960, Oregon State College Federal Credit Union had reached its first $1 million in deposits, and Mr. Coyle became the first paid manager. The following year, the first off-campus branch opened in Corvallis at 1605 N.W. Monroe.
When Oregon State College changed its name to Oregon State University in 1961, we followed suit, changing our name to OSU Federal Credit Union. In 1964, we expanded our membership to include Oregon State University graduate students and employees of the OSU Bookstore.
Branches added, online banking emerges
OSU Federal Credit Union grew steadily, expanding our membership several times. As our membership grew, we added branches in Corvallis, Philomath, Albany and Lebanon. We entered the computer age in 1994 with our first online banking system. In 2002, we introduced Member Merits, a program that rewards members based on the breadth and depth of their relationship with their credit union.
From 2002 through 2006, we expanded our membership to allow residents of Lincoln, Marion and Polk counties to join. We added branches in Monmouth, Newport, Dallas, Woodburn, Keizer and North Albany.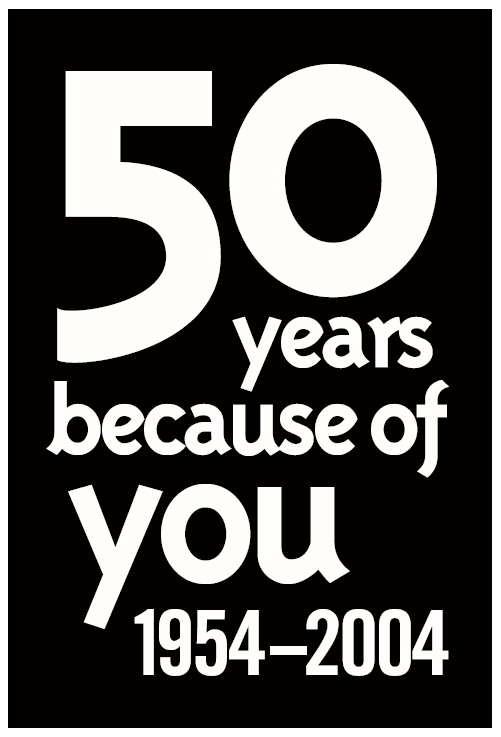 Above, a 2004 commemorative graphic, part of communications celebrating 50 years of serving members.
In 2008, at the height of a global recession, and as other financial institutions were closing, we opened a branch in West Salem to serve our members in Polk County. That same year, the Credit Union National Association (CUNA) named OSU Federal Credit Union the "National Community Credit Union of the Year."
Our Newport branch moved to its current location in 2010, and in 2011 we relocated our Lebanon branch along Highway 20.
In 2012, we added text banking and a mobile banking app to our growing suite of online services.
Charter and name change
In 2014, OSU Federal members voted to move the credit union from its previous federal charter to a state of Oregon charter. On the first day of 2015, we changed our name from OSU Federal Credit Union to Oregon State Credit Union. As a result, we were able to offer membership to anyone who lives or works in 24 counties in western and central Oregon.
In 2015, we began issuing Visa® credit cards with embedded EMV chips to enhance the cards' security. We also opened Oregon State Credit Union Insurance Agency offering home, life, auto and other insurance products.
By 2016, nearly 100,000 people had joined Oregon State Credit Union. That September we opened our third Corvallis branch as part of the construction of our 65,000-square-foot Sunset Operations Center.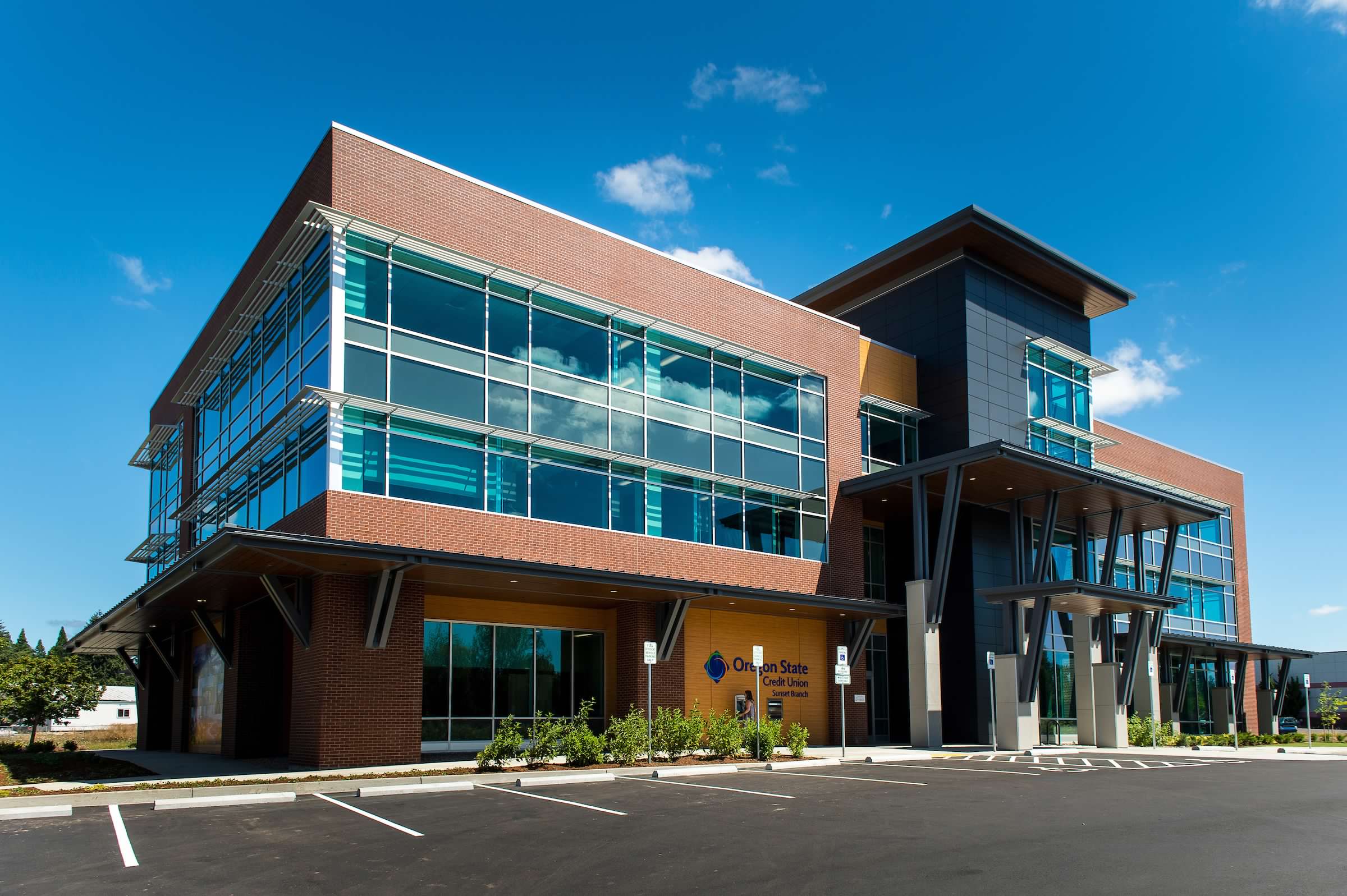 Above, the Sunset Operations branch was added in 2016 to support organizational growth and our commitment to the communities we serve.
We wanted the Operations Center to reflect our commitment to social responsibility. As a result, the completed building was awarded Silver LEEDS certification, a globally recognized symbol of sustainability.
Shortly after we opened the Sunset branch, we opened a new branch in Lincoln City.
Technology services expand
In 2017, we upgraded our computer systems, and the following year we introduced Mobile Check Deposit in our mobile app, a new online account opening system, and an online loan application system.
In 2019, we added the ability to pay an Oregon State Credit Union loan using a debit card from another financial institution. Also that year we added a branch in McMinnville, bringing us to 15 branches.
In 2020, we added a new service called Pay It Now. Pay It Now allows members to send and receive money from another person, or transfer money between a member's credit union accounts and their accounts at another financial institution.
Thriving member service continues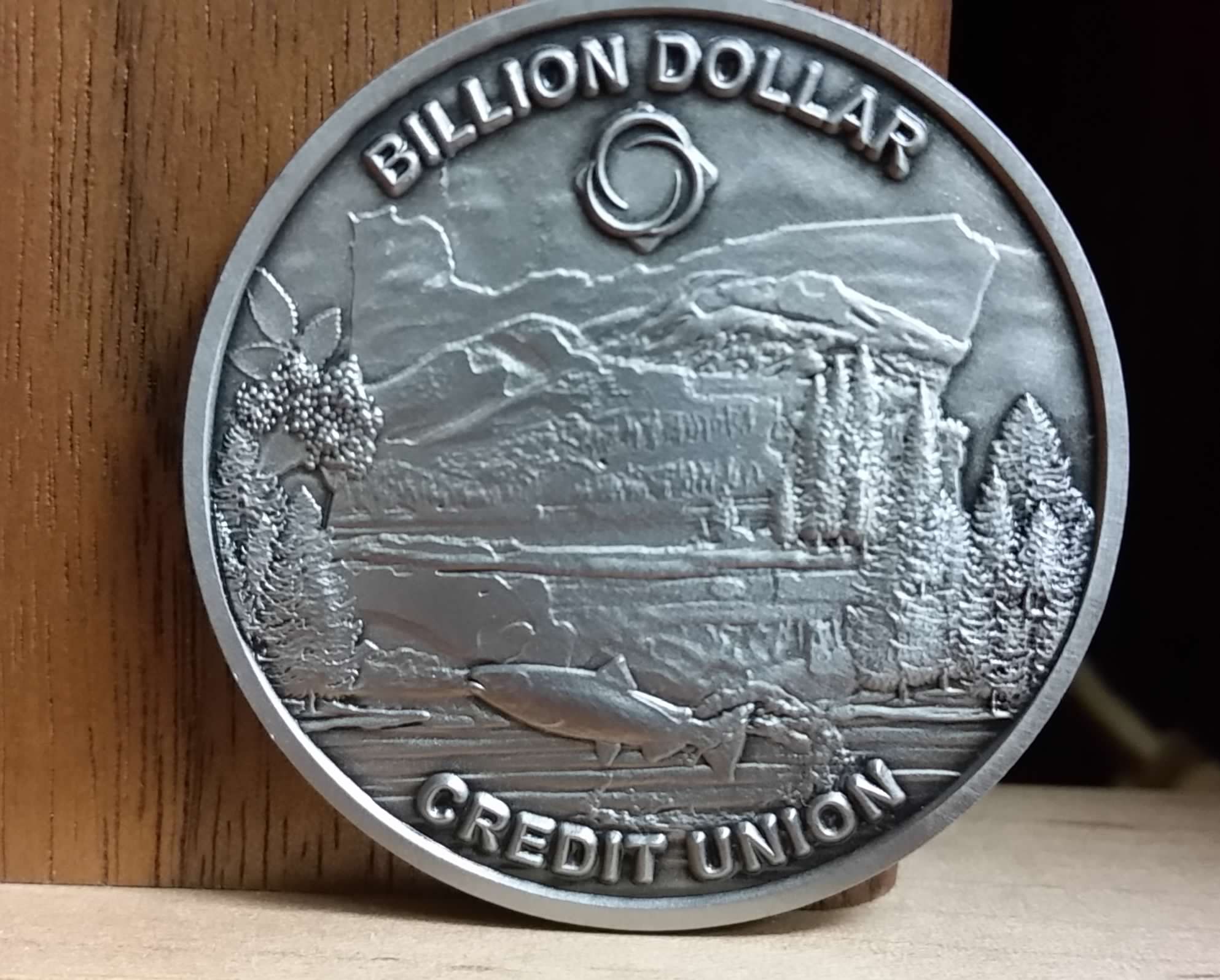 Above, a commemorative coin celebrating Oregon State Credit Union becoming a billion dollar financial cooperative in service of the membership.
We've come a long way from the shoebox. Today we're a thriving state-chartered, not-for-profit credit union serving members in 24 counties in central and western Oregon, but our vision remains the same: to create financial solutions to make lives better. And we are still inspired by the words of Bob Coyle, who said, "Your credit union is in business for one purpose only — to serve the needs of its members."
Join | Be a member of Oregon State Credit Union
Go to main navigation