See what teachers and students are doing with our education grants
Check out the photos and comments below to see how the money we give through K-12 education grants is showing up in the exciting work teachers and students are doing today in the communities we serve. For grant details, visit our education grants page.
---
2020-2021 school year grants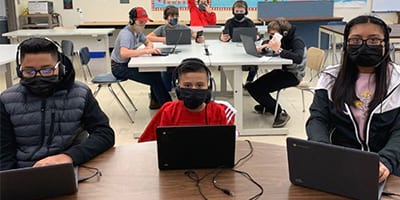 "Thank you for your generous support in helping with the purchase of supplies that benefit our students throughout the school year and beyond. The use of technology is a very critical piece in a students' learning today. By providing headphones, each student is able to participate and focus while working on and completing online assignments. Calculators are also made available to students who need help in calculating difficult equations. These supplies are crucial for our students' learning as they are not allowed to share supplies at this time. Thank you again for your part in making a difference in our students' education." — Tami Ainsworth, Lacomb School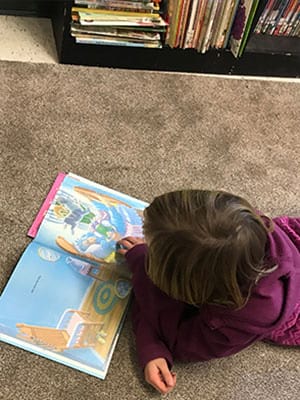 "My class was thrilled to discover the book, Santa Bruce, a character that we love from other Bruce books. As they entered the classroom and spied the book on the chalk tray, there were exclamations of, "Santa Bruce!" from several students. We have been reading and enjoying the books purchased from the grant. My students love to re-read the books that have been read to them, practicing character voice, intonation and fluency. They love reading to each other and reliving the story all over again. Thank you so much!" — Krysia Wakefield, Sheridan Schools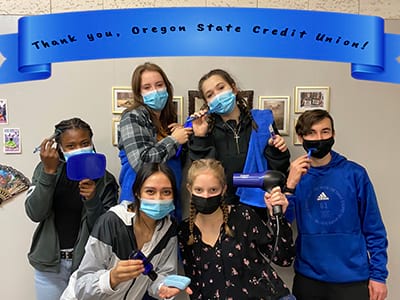 "Thank you again for your support of Western Christian School! My students are so excited to have these props in the classroom. It truly makes their experience in the language classroom more authentic and memorable. Thank you again." — Tiffanie Bradley, Western Christian School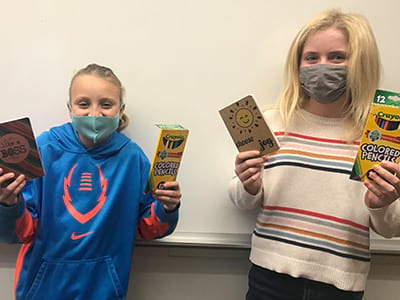 "Hi, Oregon State Credit Union: I just wanted to send this along as a big thank you! Here's a picture of a couple happy kiddos after they received their journals and colored pencils. Thank you again!" — Tracy Bates, Memorial Middle School, Social Studies/Health
---
2018-2019 school year grants
Central High School publishes student poetry in wood using laser engraver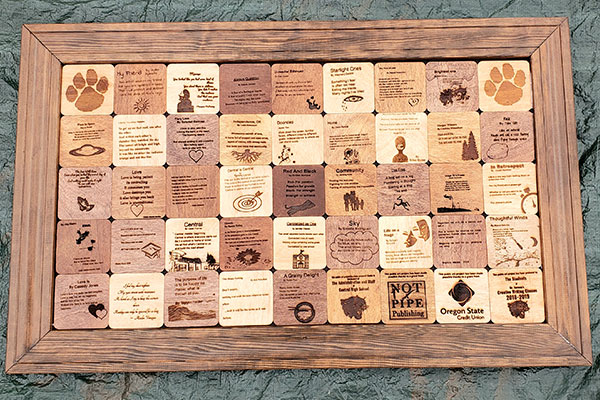 Students at Central High School in Independence will now have their poetry published in a new, high tech, artistic way. Their poetry has been laser engraved into small blocks of wood to be displayed in the school's halls for future students to enjoy.
Instructor Benjamin Gorman purchased a small laser engraver and built a ventilation system in his classroom. Students submitted short excerpts of poetry they'd written in their junior and senior creative writing classes. These were laser engraved, then stained, lacquered, and set in a frame together.
Gorman felt the project served a valuable educational goal. "We try to teach students that the last stage of the writing process is publishing, but our definition of publishing is often too constrained. Sharing their art with the public absolutely qualifies, and this medium shows students their words matter to us and have real staying power."
Philomath High School medicine balls enhance physical education classes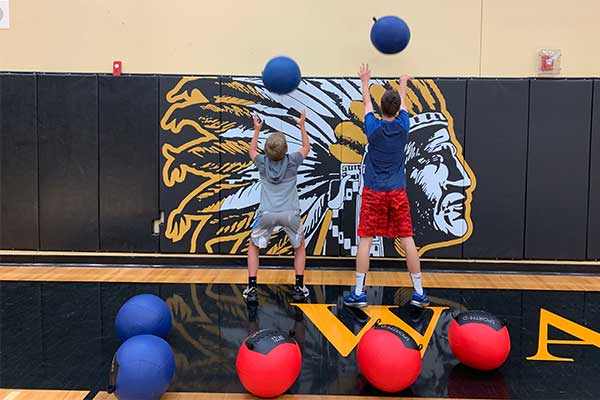 "Thank you so much for the grant of $300 that we used to purchase medicine balls for our Philomath High School Physical Education Classes.
The students love using them and ask me often if we can do an activity that involves the
"heavy balls." Thanks again!!"
— Amber King, Physical Education, teacher, Philomath High School
North Medford High School: homey atmosphere, better studying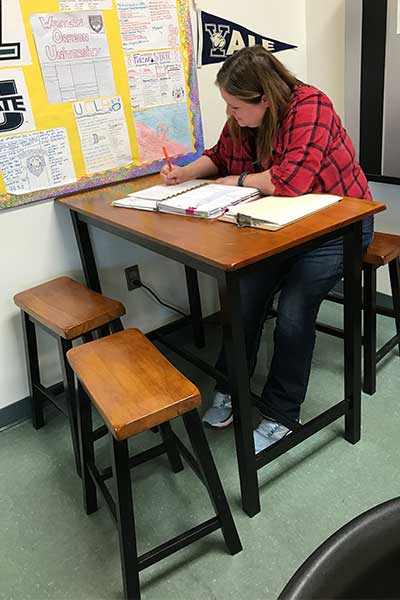 "I cannot tell you how much I have appreciated the grant that I received from Oregon State Credit Union.
I bought a table and chairs to use as flexible seating.
Students love being able to stand instead of having to sit all day long. They also like having a place that is more like a kitchen table to have small group discussions."
— Charity Malcom, North Medford High teacher
Monroe High School science students conduct tasty laboratory experiments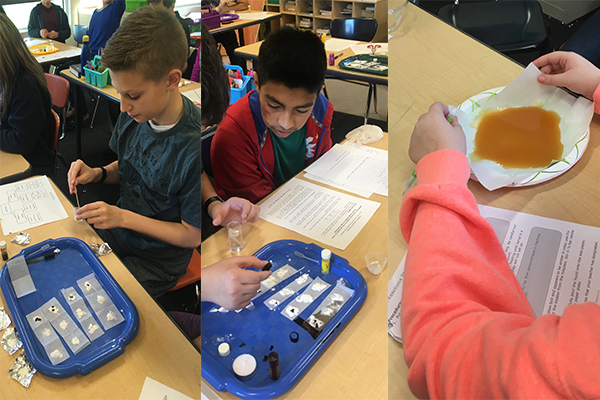 "Yes we have had a very active year with your grant funds.
The start of the year we were studying matter and chemical change. The students were able to make caramel and observe how the sugar and butter created a new substance! Very tasty lab. And popular.

We celebrated winter by testing different mixtures of cookie mix to see which one was the correct mix.

The latest lab was plate tectonics. We used graham crackers and frosting to model fault zones and different plate boundaries.

We are currently studying the rock cycle, so we're planning on creating some tasty rocks which have undergone some pressure and heat to metamorphose into new edible rocks.
These experiences would not have been possible without your support. Thank you very much. :)"
— Mrs. Martinson and the science students
Cheldelin Middle School: 3D Zorax printer filament and parts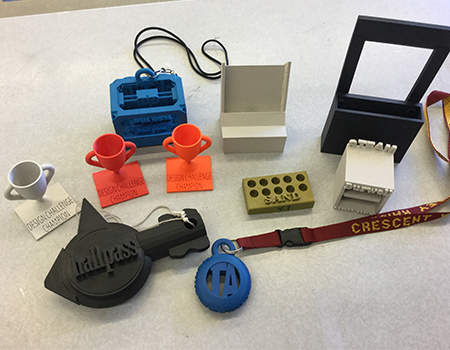 "The Cheldelin Middle School STEAM program greatly appreciates your generous funding donation of $300 to help purchase additional filament and spare parts for the Zorax 3D printers in my classroom!
With the on-hand availability of spare parts, I am able to maintain proper care and functionality of the printers, which would have previously caused delays. In addition, the abundant filament and wide variety of colors makes way for students to design and re-iterate to get their creation just right.

The whole school has felt the huge impact by the presence of the 3D Printers in the classroom. One of our big projects: students design items to solve problems or to meet a need for teachers. I absolutely love seeing 3D printed items around the school and not just in my room.
Thank you for your generous contribution that helps keep the STEAM program printing! I look forward to continue working together in the future!"
— Cheldelin STEAM instructors and students
Santiam Christian School: new cutting head for DeWalt planer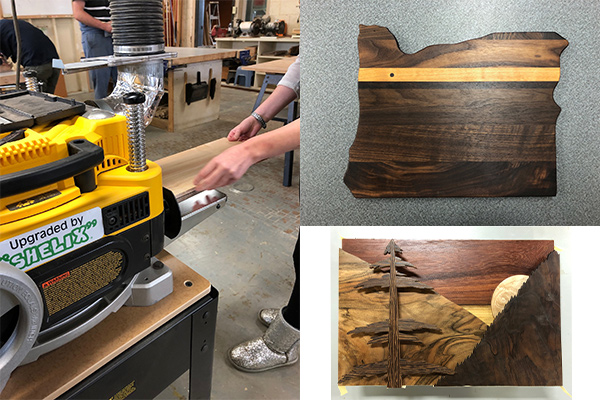 "Thank you so much for the grant with out which I could not have made this improvement to my wood shop program.
With the grant I was able to upgrade the cutter head in the Dewalt planer. The new cutter head makes projects easier to finish due to it's smooth cut. Many of the students noticed how much easier their projects were to sand because of the new cutter head.
Another significant difference is the noise. Based on research, the dB noise measurement drops from 102dB down to 90dB. That is a huge difference in a small shop."
— Marc Powell, Santiam Christian School wood shop teacher
Eddyville Charter School: fiction and non-fiction books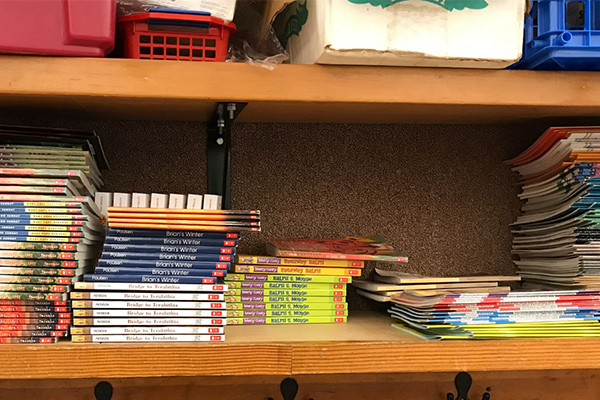 "I used the education grant funds to get all kinds of new books for my classroom. The books are used in small reading groups, so I got 7 of each book. I mostly got non fiction books, because that was what my class was lacking the most, but I also got some fiction books too.
We are currently using books purchased through the grant in every one of my groups! The students really like the variety and new options that are more at their reading ability!"
— Matt Bilder, Eddyville Charter School
Lacomb School: yoga balls, calculators, headphones, electric pencil sharpener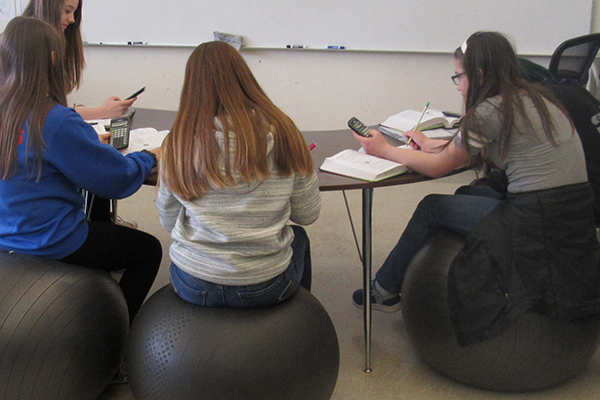 From the students:
Yoga balls help me to not get off task while doing my work.

The bouncy balls have always helped me focus because personally I fidget while I learn.

I love the fact that we have the choice to go to a room where you are offered help if you are too confused with math. Plus being able to sit on yoga balls makes math much more fun to learn.

Calculators help me to quickly solve problems and get my homework and school work done more quickly.

The balls help us focus.
From Tami Ainsworth
"Because of your generosity, I have been able to provide students with supplies that benefit them every day of the school year. We strive to give every student at many opportunities as possible to become successful learners and leaders. Thank you for helping make a difference in our students' education."
Other testimonials from past grant recipients
"The Oregon State Credit Union education grant allowed us to pilot a program that encouraged 4th and 5th graders to attend school regularly, improve behavior and raise self-esteem. Fifty kids were served and all improved in one or more areas with a long waiting list. This program was so successful we will be adding more clubs next year! Thank you for the help in supporting our kids." — Gail Winden, Robotics; Kim Wyatt, Art; Beth Freeborn, Gardening; Salem-Keizer Public Schools
"We used our educational grant from Oregon State Credit Union to purchase a kiln to serve students in the middle and elementary schools. The kiln has helped our students grow in the visual arts and build the skills they will need in middle and high school." — Mrs. Monroe, Corvallis School District

"An educational grant from Oregon State Credit Union allowed us to buy equipment needed by students in the robotics club. Students use the equipment to design and build Vex robots, developing skills in the areas of engineering and mathematics." — Mr. McCargar, Gervais School District
Go to main navigation