Celebrate youth financial literacy
Happy clouds, butterflies, sporty red and black checks for Scottie, and real feathers for birds on the wing?
Check out financial literacy coloring contest winners below. Thanks to our members who submitted entries and made April a great month of learning and fun at Oregon State Credit Union, where we like to focus on and celebrate youth financial literacy.
Kid's coloring contest: The winners!
Congratulations to our creative young members below.
Contest recap: Grand prize: 200 Scottie bucks. Kids downloaded coloring pages, circled their age on the back of the page, filled out the photo release form and returned their entries to their favorite branch.
Way to go, Karalee!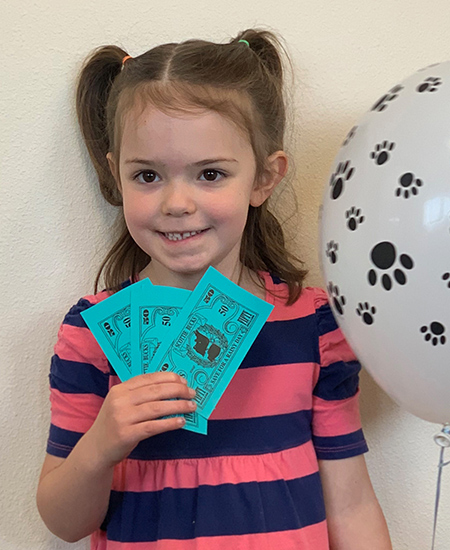 Karalee, Scottie Saver member from Newport, is seen above with her prize of 200 Scottie bucks. She plans to use her winnings to get lots of fun Scottie store merchandise to go with her dog-paw balloon. Woof!
See winning coloring pages here, and you'll see that she: 1) Emphasizes vibrant energy 2) Introduces new life by using a butterfly and 3) Enhances the overall scene with the remarkable use of a Happy Cloud. Our members are the best!
---
Nice work, Ellenore!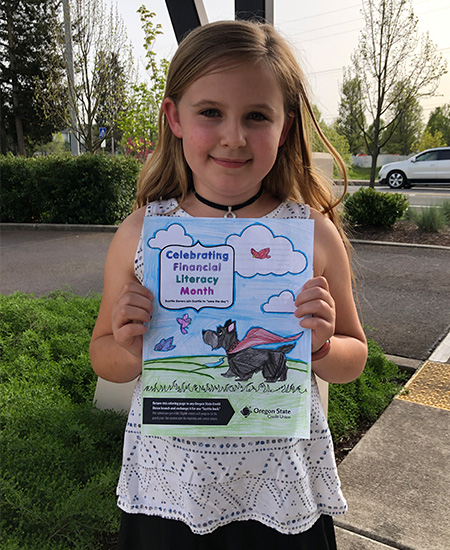 Above, Ellenore, North Albany branch Scottie Club member, proudly displays her winning 2019 Scottie coloring page contest entry, submitted during our annual Youth Financial Literacy Month in April.
See winning coloring pages here. Her work features: 1) Scottie sporting a collar with beautiful red and black checked pattern 2) High contrast blue outlining of key elements and 3) Colored lettering to match her overall theme. Clearly, this young member has vision!
---
Judah: A multi-media boss
Above, Judah, Scottie Saver member from Newport, proudly displays his winning 2019 Scottie coloring page contest entry and his well-earned Scottie bucks.
See winning coloring pages here. Judah's entry features: 1) A sensitive rendering of our friend, Scottie, showing variations in fur around the ears, mouth, tail and paws. 2) The use of cotton glued to the page to add dimension to the clouds 3) Real feathers cut to size and glued to the bird's wings. Conclusion: this is one creative member!
Teen Money-Quest Video Challenge
This online contest for teens ended 4/20/19. Contest recap: Teens won a $50 gift card from Amazon, Target or Walmart. To be entered into the gift card drawing, teens logged in to our Teen Money Quest video module using the blue button on the upper right corner of the Teen Money Quest page, watched the videos and answered some questions. It was that easy! See the video challenge here.
Youth get hands-on saving experience
Set the stage now with youth financial accounts from Oregon State Credit Union, including:
Go to main navigation