The April youth financial literacy contest is complete
Contest entries are in — thanks to all our participants! Max and Cami Jones, Albany members, created the winning "save, spend, give" jars for the ages 3-7 category in the April contest (below). Other winners in the ages 8-12 category: Colton and Cooper Ash of Philomath. Teen winners: Tyree Rogers from North Albany and Jessica Carroll from Corvallis.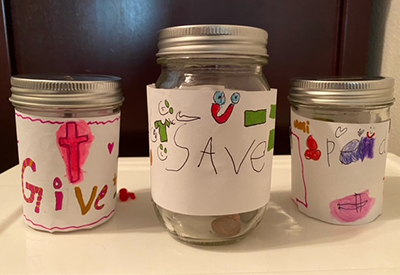 Contest recap: April 1-22
The focus was on learning, contest prizes and fun for kids ages 3-18. Goal: build money management skills with our "save, spend, give" contest. See contest entry and age category details. Review the contest rules below. Download a contest information sheet here. These fun activities help parents have conversations with kids and teens about financial health, saving habits, and thinking about the future. We value year-round fun and effective financial learning for youth, with a special focus each year in April.
---
Contest entry and age category guidelines
The youth financial literacy contest makes it easy for parents and educators to have conversations with kids and teens about money, budgeting and financial decision making. All entries due by April 22, 2022 to be eligible for the prize drawing.
Ages 3-7
Get creative and make a fabulous place to keep and organize your money. Decorate a jar for saving, spending or giving, or do all three! We suggest a Mason jar with a lid that has a coin slot in it. But an old spaghetti sauce, pickle or mayonnaise jar will work. Clean your jar, remove labels and you're ready to start.

Ideas: Use craft paint to make stripes or to write your name. Superglue spools to the side of the jar for legs, add paper ears and a pipe cleaner to make an animal. Or use spools like wheels to make a car or plane. Make a coin slot in the jar lid. If you're uncomfortable cutting the slot, slotted lids are available at many craft stores and at your local Oregon State Credit Union Branch (while supplies last). You can also make a lid by cutting a slit in a piece of felt and securing it with a jar lid ring.

Photograph your jar(s). Send a photo and photo release form to CommunityEd@oregonstatecu.com or bring your photo and release form to your favorite branch and show the staff what you created.

Prize drawing: Scottie bucks and a book from our Scottie account opening list. Entries to be judged by credit union staff.
Ages 8-12
Decorate jars by following all the directions for the 3-7 age group contest.

Create a saving goal chart to track your savings, timeline and budget.

Send the images and a photo release form to CommunityEd@oregonstatecu.com, or bring your images and release form to your local branch.

Prize drawing: Scottie bucks and a chapter book from our Scottie account opening list. Entries to be judged by credit union staff.
Ages 13-18
Teens completed financial learning modules called "Real world 101," then submitted their online contest entry forms.

Prize: Random drawing for $50 gift card to Amazon® or Walmart.
---
Contest rules
Contest submissions will be accepted April 1-22, 2022. One entry per child.

Entries will compete in three age categories. Ages 3-7 will decorate their savings jars and submit a picture of their jars. Ages 8-12 will decorate their jars and submit an 8 week savings progress chart/graph. Ages 13-18 will complete the online classes.

One winner in each age category: 3-7 and 8-12 will be awarded Scottie bucks and an age appropriate book. Ages 13-18 will be entered in a drawing to win a $50 Amazon or Walmart gift card.

Pictures, charts and photo release must be turned in by close of business April 22, 2022, to be eligible for the prize.

Photos and saving goal charts may be turned in at any Oregon State Credit Union branch or emailed to: CommunityEd@oregonstatecu.com.

Children of Oregon State Credit Union employees are not eligible to win.

No purchase necessary to win.

Winners will be notified by preferred telephone number or email by the end of April.

After unsuccessful attempts to contact a winner by telephone or email on three separate days, that winner will be disqualified, and a new winner will be selected.

Winners will be announced on oregonstatecu.com.

Elementary entries will be judged based on artistic quality and creativity by a panel of credit union employees. After completing the online classes, and filling out a registration form, a teen winner will be determined by a random drawing.

All judges' decisions are final.
---
Use year-round financial education resources
Teach kids good money habits and keep the financial learning going all year.
Youth saving accounts give kids hands-on saving experience
Go to main navigation